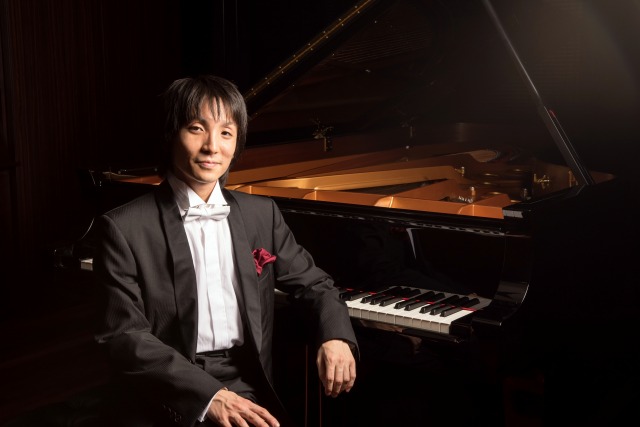 内藤 晃(ないとう あきら)
ピアニスト、指揮者、作編曲家。横浜市出身。東京外国語大学ドイツ語専攻卒業。桐朋学園大学指揮専攻科目等履修生、ヤルヴィ・アカデミー・マスタークラス(エストニア)などで指揮の研鑽を積む。2006年、ソロプチミスト日本財団より社会ボランティア賞受賞。
弾き振りを含む多彩な演奏活動とともに、「もっと深い音楽体験」を共有すべく、ユニークな発想でレクチャーや執筆を行う。月刊音楽現代に「名曲の向こう側」を連載するほか、楽譜の校訂・解説、ライナーノート執筆なども数多く手がけ、訳書にA.ゲレリヒ著「師としてのリスト〜素顔のマスタークラス」(近刊、音楽之友社)、校訂楽譜に「ジョン・アイアランド ピアノ曲集」(カワイ出版)、作曲作品に映画「彦とベガ」(谷口未央監督)などがある。指揮者としては、札幌シンフォニエッタ、アビアント交響楽団、Felmusica Symphonic Windsなどに客演を重ねる。
CDに「Primavera」(レコード芸術特選盤)「言葉のない歌曲」(レコード芸術準特選盤)があるほか、マリンバ吉川雅夫氏や作曲家春畑セロリ氏のCDでピアノを務め、一流ソリストや作曲家からも厚い信頼を寄せられている。主宰ユニット「おんがくしつトリオ」では教育楽器によるエキサイティングなアレンジが人気を博し、全国各地に招かれている。2014年、全日本ピアノ指導者協会より新人指導者賞受賞。
これまでにピアノを城田英子、広瀬宣行、川上昌裕、D.コレヴァー、V.トイフルマイヤーの各氏らに、指揮を紙谷一衛、L.グリン、曽我大介の各氏に師事。横浜市栄区民文化センターリリス・レジデンス・アーティスト。たかまつ楽器青い鳥マスタークラス特任講師。日本スペインピアノ音楽学会、日本セヴラック協会、日本ヤナーチェク友の会会員。

Akira Naito
Akira Naito was born in 1985. He has studied piano under Eiko Shirota, Masahiro Kawakami, David Korevaar and Viktor Teuflmayr, piano, music theory and chamber music under Nobuyuki Hirose and Tetsuya Akiyama, conducting under Kazue Kamiya, Leonid Grin and Daisuke Soga, authentic interpretation under Yoshio Watanabe, and Jazz composition under Kiminori Atsuta.
In 2006, Naito received the Society Volunteer Award from the Soroptimist Japan Foundation for his enthusiastic efforts with charity concerts and visits to retirement homes. In March 2008, he made his debut as a pianist by releasing his first CD "Primavera," which which won the special commendation from the magazine "The Art of Records."
In 2008, Naito graduated from the Tokyo University of Foreign Studies, majoring Cultural Anthropology and German Literature. While in University, he also studied in Conducting Course at Toho Gakuen School of Music. Currently, he is very active not only in playing the piano, but also in composing, writing and conducting. As a pianist he has appeared in many concerts around Japan, both as a soloist and an accompanist. In 2011, he composed the music of the movie "Kataki-uchi (Revenge)" directed by Mio Taniguchi, which won the Excellence Award of Social Cinema Festival 2012. He edited the newly published editions of Leoš Janáček's Piano Works and Franz Liszt's Transcriptions of Franz Schubert Songs (YAMAHA MUSIC MEDIA), and supervised a translation of Charles Rosen's "Beethoven's Piano Sonatas" (Michi-Shuppan). In March 2012 he was invited as one of only 10 conductors to take part in master classes with Leonid Grin at The International Järvi Academy in Pärnu, Estonia.
In 2013, Naito had recording sessions with celebrated marimbists Tatsuo Sasaki and Masao Yoshikawa, which recording was published as "Marimba Favorites I II III" (Kyodo Music Publishing Co.,Ltd.). In 2014, he conducted and performed Mozart's Piano Concerto K.482 with Sapporo Sinfonietta, which performance received great acclaim from audience. Naito attended International Bach Competition 2014 Leipzig and was chosen as one of 13 pianists and got 2nd diplom, highly praised by Prof.Jacques Rouvier. He received the New Teacher Award 2014 from PTNA (Piano Teacher's National Association of Japan) and is also active in teaching piano all over Japan.